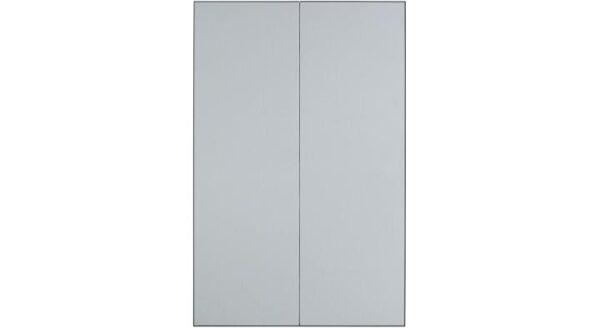 THE CONCEPT: Stendhal would have wanted to dedicate his life to dreaming, the pursuit of happiness, the arts and love. This eponymous piece returns to the era of « slow living », of living better, whilst retaining the functionalities required of a modern-day office. The doors, in wood or upholstered in Steelcut Trio fabric, open onto a space in which everything is useful and where almost minimalist balance keeps perfect proportions. The connectivity and lighting, almost invisible, are devised for the space which is discovered, completely isolated by the wooden or fabric-covered panels (Steelcut fabric) to become an office, a private space.
TECHNICAL DESCRIPTION: The Stendhal secretaire must be fixed to a wall via two sets of rails located top and centre. The interior of the chest (back panel, niches, shelves, door interiors, flap door) is completely finished in dark walnut veneer. Doors are available in 2 versions, either upholstered or lacquered.
The upholstered version (in Steelcut Trio fabric) is framed by 3 profiles in black anodised aluminium, leaving the closing side of the door fabric-covered. The interior is in dark walnut veneer.
Colours for the lacquered version are chosen from the 16 'pack' colours.
Interior fittings: flap door/writing surface or computer support. Shelves in walnut.
An optional magazine rack (W 59 cm) in chocolat lacquered sheet aluminium, with large niches on the left (on 1, 2 or 3 levels). Another type (W 27 cm) has small niches to the right (on 1 or 2 levels).
The unit is fixed to the wall via two sets of rails (top and centre) which are very easy to adjust.

Equipped with a twin USB port located behind the flap door. Optional sensor-controlled lighting (LED strip), located behind the flap door at the top, may be ordered if desired (see supplements below – ref's 00W0MD10 and 0000NLE1). Connected via a wall outlet, or via a black USB cable (2 metres) which feeds into the bottom of the unit and a charger (with a range of connectors to suit the various international standards). The transformer cable for the LED strip is either wired into the wall, or exits the unit at its base.
CALL US ON 020 7018 4143 FOR COLOUR/SIZE OPTIONS