FROM STOCK IN 3-4 WEEKS
MADE TO ORDER IN 9-10 WEEKS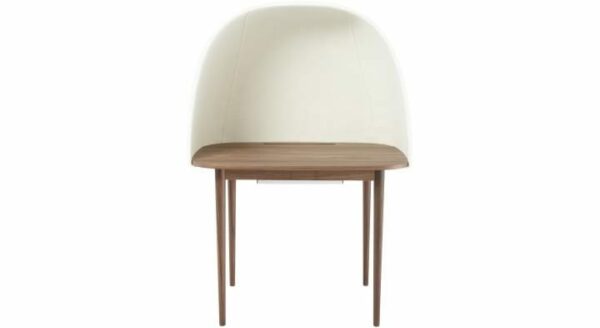 The Rewrite desk is a little jewel of modernity and softness. The soundproofed bubble affords protection from both light and external noise and also dampens sounds emanating from within it. The natural, precious materials of which it is composed, walnut and Kvadrat Divina or Steelcut Trio wool, reinforce the overall feeling of softness and security. The functional aspect is covered by a lacquered metal chest, fixed beneath the desk, which conceals transformers and electrical cables, and by a slit cable port in the top of the desk. Whilst staying connected, the user can isolate himself and construct for himself a very private space which is nonetheless still linked to the outside world… thanks to its rounded shape, the Rewrite desk can be located as a 'point' anywhere in the room, be it living room, bedroom or even a large hallway. Desk with legs in solid walnut and top in walnut veneered MDF, with the exception of the slit cable port in the rear section which is made from solid walnut. Bubble/screen in fibreglass clad in polyether foam and available in all colours of Divina or Steelcut Trio wool on both its internal and external faces. Chest in white lacquered steel to take transformers and cables, located beneath the top.

desk 'out-of-collection' colour

£2704

no. of items : 1 desk 'out-of-collection' colour dimensions : H148 x D75 x W101.20 finishes : # tempete/fr anthracite acrylic 100%

desk steelcut trio grege from stock

£2706

no. of items : 1 desk steelcut trio grege from stock dimensions : H148 x D75 x W101.20
CALL US ON 020 7018 4143 FOR COLOUR/SIZE OPTIONS