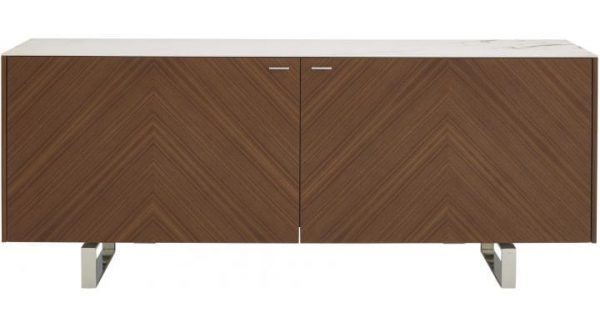 CONCEPT : first launched in 2008, the Coplan sideboard is being updated for 2016. The way in which its two coplanar doors open has been retained : side by side when closed, they pivot on opening and slide one in front of the other. Since there is no clearance required when opening, one can have a 200 or 230 cm long sideboard with just 2 sliding doors instead of 3, 4 or 5 hinged doors. The gain, aesthetically speaking, is one of simplicity and purity of line.
In addition, the lines of the Coplan 2 sideboard have been lightened and new materials (walnut, ceramic stoneware) have been brought in to complement the existing lacquer finish.
QUALITY OF MANUFACTURE & NEW FINISHES: the sides have been slimmed down from a thickness of 38 mm to just 16 mm. The tops have been slimmed down from 38 mm to 12 mm.
The original finish of satin white lacquer is still available; however, it is now possible to associate this with a top in white, white marble-effect or metallic anthracite-coloured ceramic stoneware. Coloured to its core, ceramic stoneware offers a surface which is 30 % harder than granite. Its properties of resistance to scratches, stains and heat shocks are exceptional, making it particularly suitable for use as a sideboard top which will be called on to accommodate a whole range of different items.
A new finish has also been added: walnut veneered doors with 45° fern motif and walnut veneered sides with vertical grain. In this case, the top is offered in either chocolate lacquer or the 3 ceramic stoneware finishes.
The base is in white lacquered steel with zamak door buttons lacquered to match; or in chromed steel with chromed zamak door buttons.

CALL US ON 020 7018 4143 FOR COLOUR/SIZE OPTIONS