FROM STOCK IN 3-4 WEEKS
MADE TO ORDER IN 9-10 WEEKS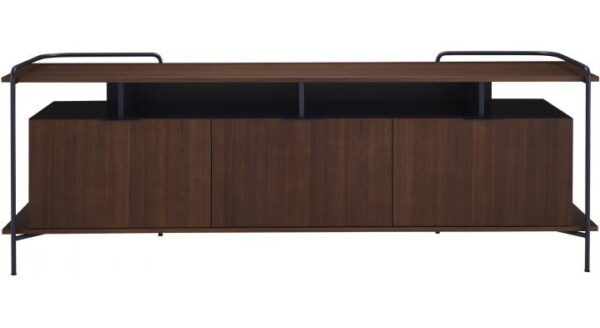 This range of furniture, designed by Eric Jourdan, comprises a desk and a sideboard. Its originality lies in the subtle dynamism arising from the contrast between the tubular metal structure and the dark walnut. The tubing, in bleu nuit, forms a light and airy framework above the top, thus creating animation and a tension in which each element enhances the other.
The desk is somewhat reminiscent of the pure, modern and minimalist spirit of 1950s furniture. Both the base and the positioning of the two drawers, both finished in blue lacquer, create an asymmetrical effect which shows off this desk "like a picture in its frame".
The sideboard, with its three flap doors, gives an immediate sense of serenity, with the broad, flat sweep of its angular top "roundly" encased in its tubular mounting at each end to show to best effect any objects which might be placed in its centre.
The sideboard is also available in a version with 2 flap doors and a block of 4 drawers in the centre, with or without the tubular base.

CALL US ON 020 7018 4143 FOR COLOUR/SIZE OPTIONS